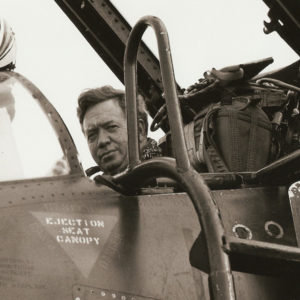 Col. Joe Kittinger
Col Joe Kittinger
It was the "highest step in the world," Joe Kittinger made history as he ascended to 102,800 feet in a high-altitude balloon and jumped to Earth, setting four world records. During a distinguished USAF career, Joe served as a test pilot, Squadron Commander, and Vice Wing Commander, and he spent 11 months as a POW in Vietnam. He retired as a Colonel and subsequently set two world ballooning records and won numerous ballooning competitions.
Joe is a National Aeronautics Association Elder Statesman of Aviation; was awarded a Lifetime Achievement in Aviation trophy from the Smithsonian National Air and Space Museum; was made an Honorary U.S. Army Golden Knight; and is enshrined in the National Aviation Hall of Fame, the U.S. Ballooning Hall of Fame and the National Skydiving Museum Hall of Fame. To date, Joe has logged more than 16,800 hours of flying time in over 93 aircraft. His adventures are detailed in his autobiography, Come Up and Get Me.
But Joe Kittinger, now 88, held the jump record for five decades. He is not a household aviation name like say, Buzz Aldrin or the late John Glenn. But what he did for America's space effort is comparable.
In 1960, as research for a then-fledgling U.S. space program, Kittinger rode a helium balloon to the edge of space, 102,800 feet up. Then, wearing just a thin pressure suit and breathing supplemental oxygen, he leaned over the cramped confines of his gondola and jumped – into the 110-degree-below-zero, near-vacuum of space. Within seconds his body accelerated to over 600 mph in the thin air. After free-falling for more than four-and-a-half minutes, slowed finally by friction from the heavier air below, his parachute opened at 14,000 feet and he coasted gently down to the New Mexico desert floor. Kittinger's test showed scientists that astronauts could survive the harshness of space with just a pressure suit, and that man could eject from aircraft at extreme altitudes and survive. Upon Kittinger's return to base, a congratulatory telegram was waiting from the Mercury Seven astronauts – including Glenn, Scott Carpenter and Alan Shepard.